the saga continues ... and Vpost in action : )
just 1 or 2 days before Denise's new account's discount deadline, my last shipment reached the vpost office in LA : ) phew was worried abit cos there was US custom check alert and what not ... but heng heng everything was ready to ship 24 hours before the deadline's 2359hrs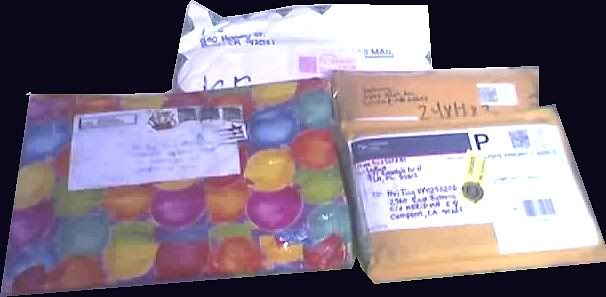 and today the day that they arrived ... (6 days of shipping). the first surprise was that it came as individual packages as shown in the photo above. I was expecting vpostusa to pack them in a box or something but that not the case.
and the funny thing was that the postman actually called Denise up before sending those parcels to my place ... kinda funny right ?? I thought normally if no one at home, they will just leave a slip for the receiver to collect it at the post office : )
the biggest surprise was that it was missing the final item that I bought from ebay ... I was spooked for a while, thought that item went missing but after checking with the good people of vpost, it's been delayed becos of the US custom. A good thing cos it's not the our local MDA or custom : ) phew shall wait for the final item before I judge the vpost and ebay dvd purchases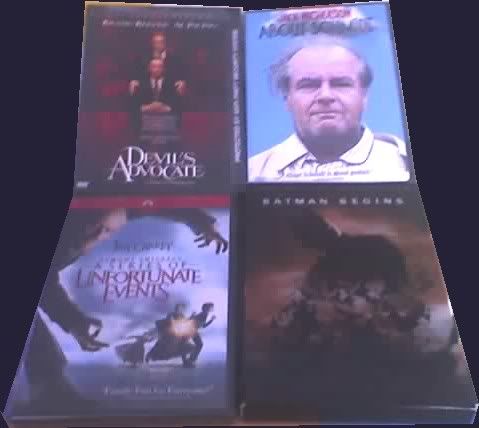 the 4 dvds that reached my place today : )among them, the most expensive and the one that I been seeking for would be the Batman Begins Delux Dvd.
What so special you might ask
... well it's a Lenticular Cover dvd where the cover changes when u look at it from different direction : ) a limited ed from Best Buy in USA (their Hypermarket)
but Singapore also got right ??
... well the cover design different and this one is bigger and better looking : )
okie gotto feed my visual n hearing pleasures ... later