While Packing and moving stuff today, I found some old newspaper cuttings that got picture of me :)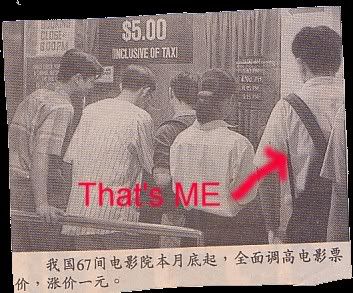 The first one was taken when I was out with one of my secondary school days crush (who married my classmate and now both of them have a cute little boy). We were buying a pair of tickets to watch a movie then and movie price was $5 and the news article was about the $1 price increase in ticket Price. Sigh the only $5 ticket we can get now is if we go for a surprise screening at GV.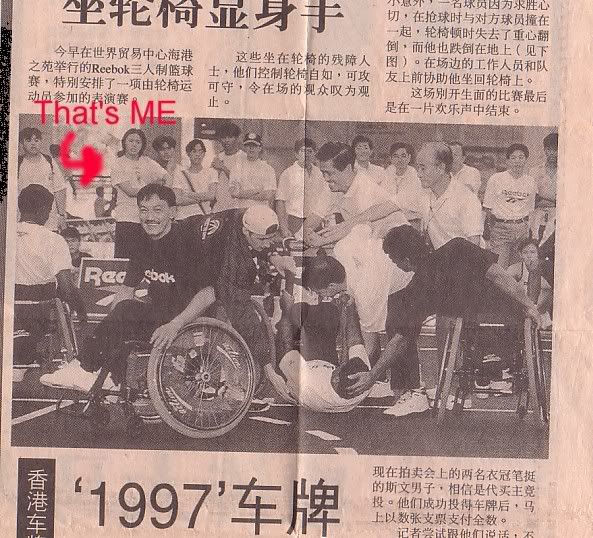 The second one was taken at a 3 on 3 basketball competition at Habourfront. I was having the shoulder long hair cut then and the news article was about the wheel bound folks duking it out in their own 3 on 3 competition. Don't think we make it thru the first round but hey our photo was shown on the newspaper, which I don't think the champion was even featured at all. hehehe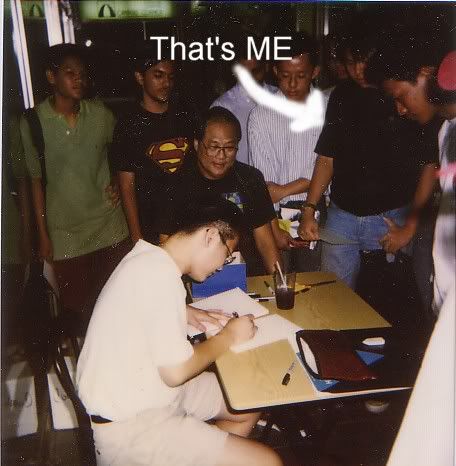 The last one was taken when Jae Lee visited Singapore. Jae Lee is a comic book artist and the first US comic professional that I met in person. When he was here, we were offered to take pictures with him at about $8 per picture but then I was camera shy and didn't take any pictures with him. I did however won a sketch from him and it still remains as one of my prized possessions.
When I was at my usual comic shop getting my comics, I saw these two poloroid pictures on display and asked the comic shop uncle if I could take a closer look. Quite surprise to see myself in the photo above : ) It was one of my regrets not taking any pictures with him when he visited but I never expect to see his pictures of his visit again and one that I was in the same picture with him ... that picture above was simply priceless.
Anyway I managed to borrow these two poloroid pictures from the comic shop uncle to scan and keep : )