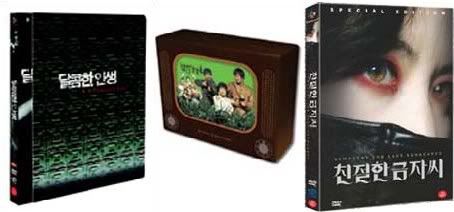 Finally made my 2nd online Dvd Purchases and they are "A BitterSweet Life LE"(ABL), "Welcome to Dongmakgol LE" (WTD) & "Sympathy for Lady Vengeance" (SFLV). After considering Yesasia.com, DvdHeaven.com and DvdfromKorea, based on my friend's recommendation and the feedback from Import Forum, I decided to go with DvdfromKorea for my first Korean Dvd Purchases.
ABL and SFLV are 2 of my top 10 movies of 2005 and I never really had any favourite Korean Movie until ABL. WTD is a blind buy, based on the buzz surrounding this movie and it's the representative for Korea in the upcoming 06 Foreign Language Academy Awards.
However it wasn't a smooth purchase for me. I been planning to buy all 3 Dvd titles at one go to save on shipping cost but ABL was sold out at the DvdfromKorea.com (my first choice of online seller) and then the inital pressing of SFLV LD went out of print. Then the composer took out the OST in WTD LD because he refuses to sell it in Korea. (which make me wonder why he compose the soundtracks for a Korea Movie in the first place ?)
Argh !
But SFLV LD was released again (in 2nd Printing) and when I was about buy both SFLV LD and WTD LD, DvdfromKorea.com restocked their ABL LD. I guess that a sign for me to make my purchases now before anymore regrets set in. Even tho the weight of WTD LD went up and caused the shipping cost to go up by US $3 (irk me a bit cos the initial weight was just nice to fit into the cheaper shipping)
Part of the reason why I didn't buy this asap was because I found the Korean Dvd kinda expensive compared to the USA ones. Money was a bit tight but with the red packet I received on my birthday and the recent sale of the Free Herbie Dvd that DeepDiscountDvd.com "gave" me, it add up just enough to enable me to make this second purchase : )
Should be reaching me within 6 to 9 working days : ) and since today a Saturday, I am kinda expecting it to reach me by 16th Jan 06 or 19th Jan 06.