Beside collecting Comics, DVDs, Posters, Movie Postcards and old love letters, I also collect First Day Cover of the Chinese Zodiac series for Singapore Postal Office.
and today is the day they issue First Day Cover for the upcoming Zodiac animal > the Doggie !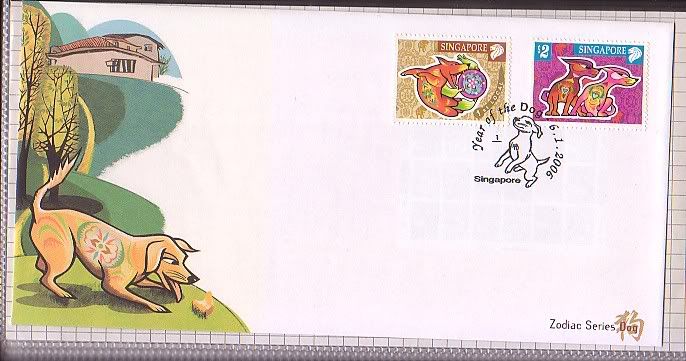 Although I was expecting it to be issued before Chinese New Year, I almost missed it because I didn't have the time to go down to the post office to check when the issue date. Lucky today's newspaper carry an advertisement for it and I got to go down to the post office to send some letters so everything's cool.

I didnt go on the issue day for last year Zodiac FDC and nearly couldnt get one becos U have to get ur First Day Cover on the First Day ... not Second or Third ! but lucky one of the staff kept extra FDC and sold me one : ) met her again at the post office today but I dont think she remember me

Was thinking of scanning all the FDC covers I got and show off here but dont really have the time to do so ... well if anyone really want to see it, I will scan them : ) it's either that or I will scan them all after next year's FDC
When I was going thru my Presentation Pack (which I normally buy with the FDC), I realized the cycle that I am collecting is nearly over ... the Doggie is the 11th Animal and next year Piggie will be the last Animal for the cycle. I wonder will there be another series for the Zodiac and got to start all over again : ) which will be Denise's Rat

Before I left, I overheard an old uncle who is a collector as well, said this to the staff about collecting the next cycle,

"Next Cycle ? I am not sure if there another 12 years for me"