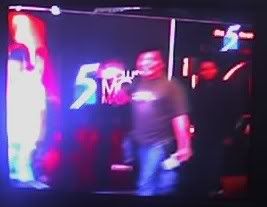 yup ! that's me! I could be found a couple of times on the Ch5 Ads for the Movie Marathon ! (there's one with Erica Lee behind me, one of me getting up and one of me giving the farewell wave ~ see above) been trying to take photo and video of the Ads but it was damn hard and the picture above is the best I got so far!
Do Look out for me again : ) and yes I was/am such Cam Whore
oh that blur spot behind me .. that's Loki !